We are
so
excited for our second blogger interview! Between planning her wedding, writing two successful blogs:
A Cup of Jo
and
Smitten
, and her job at
Glamour magazine
, Joanna took the time to answer our valentine themed questions and we are just tickled pink!
On Smitten, you often ask readers to submit their stories after you tell one of your own. It's been a while since we have had an exciting Valentine's day, we are wondering, what was your most memorable Valentine's Day?

* Funnily enough, my most memorable Valentine's Day was two years ago. I was hopelessly single and a little sad. There was a blizzard in New York and I wondered if I'd ever meet my soul mate. I had no idea that two weeks later (just two weeks!) I would meet Alex, the love of my life, at a party! If you're feeling lonely this Valentine's Day, remember that you never know what is right around the corner.
Since everyone is in relationship mode, do you have any tips for us single gals?


* On Valentine's Day, treat yourself as if *you* were your crush. Buy yourself a giant cookie at lunch, get pretty flowers for your house and make a
list
of quirky, funny things you love about yourself. (Truly, making those lists can be so inspiring.) Also, when I was single, I found that the thing I missed most was intimacy--like pillow talk and random hugs. So hug your co-workers and friends on Valentine's Day--it feels good and they'll laugh and love it! And at bedtime, call someone to say good night and tell them you love them--even if it's your mom. I found that connecting with the wonderful people in my life helped me feel good when I was feeling extra-single. :)
As most readers of your blog know, you are recently engaged. How are your wedding plans coming along, and do you have any suggestions for soon to be brides?

* Thanks for asking! We're getting married this summer in Manhattan. We're keeping things very simple, so that planning has been going smoothly. One of my favorite parts was choosing the dress--I picked
this
one from J. Crew and I love it. (Also, you can see our engagement photos
here
, if you'd like!) For brides-to-be, consider playing your favorite love song while you walk up the aisle. My sister went to a wedding recently and the bride walked up the aisle to a slow version of "Tupelo Honey." It was gorgeous and wonderful.
And now a fun question..What is a quirky fact about you
?
I often get a burst of energy right before I fall asleep. I'll start doing "the bicycle" in bed and Alex will say, "You'll be asleep in ten minutes, tops."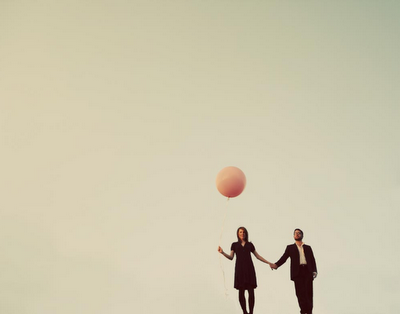 Thanks so much Joanna for doing our second interview! If her blogs aren't already on your must reads(though we're sure they are) please hop on over and check them out! You will be hooked! We feel like Joanna is a celebrity in the blog world, and we have been so excited to share this interview with all of you readers! Happy Friday!