Nothing makes me sadder than thinking back to high school and getting holidays off. I hate not having national holidays off! And to top it off, it is a horribly rainy day in Los Angeles, which means the roads are a mess. LA drivers(myself excluded, of course) freak out in the rain and it is utter madness on the roads!
So, to lift my spirits( and to assist a good friend who was engaged over the weekend due to my fine matchmaking skills) I was looking at wedding dresses. Nothing cheers me up like weddings!
My new obsession has to be polka dot wedding dresses. So playful and girly. I think just perfect for a Hamptons summer wedding. Here are my favorites: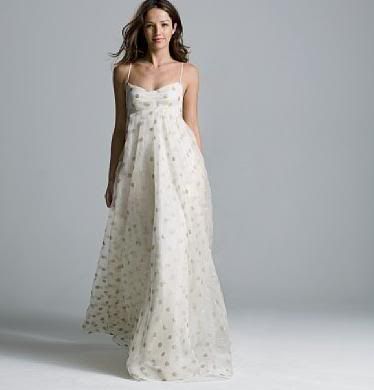 Dress from J.Crew..if I ever find this dress, I'm swooping it up. It is adorable. This is one you can def wear again..I can see myself at a dinner at the
Viceroy in Santa Monica
during a hot July night
This picture/wedding is all over the blogs. The dress is Carolina Herrera, and divine. I would wear it in a second.
another beauty by J.Crew. Whoever thought to add a bridal line at J.Crew is brilliant.